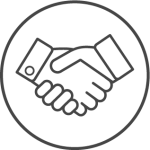 If your company has a cloud solution and wants access to hundreds of millions of mobile customers worldwide, consider partnering with Synchronoss. You will benefit from new business opportunities and revenue-sharing agreements, driven by the success of Synchronoss' secure, white-label, and platform- and device-agnostic products that enable individuals and enterprises to connect, synchronize, and activate connected devices.
With Synchronoss' powerful carrier relationships and industry-leading technology platform, you can connect with some of the world's largest carriers, gain millions of new customers, and expand your reach in global markets.
Interested in partnering with Synchronoss?
Why Partner with Synchronoss?
Synchronoss is a global leader in cloud solutions and Enterprise mobility, with more than 130 technical patents and one of the largest, most comprehensive technology platforms in production. Synchronoss serves a majority of the world's global personal cloud market and adds hundreds of thousands of new subscribers each month.